Why is my Confidence Monitor "Not Receiving Video" from my Encoder?
The Switchboard confidence monitor is located on the Workflow page and is designed to act as a quick verification that your encoder is sending video to Switchboard Cloud. But sometimes, that doesn't always happen.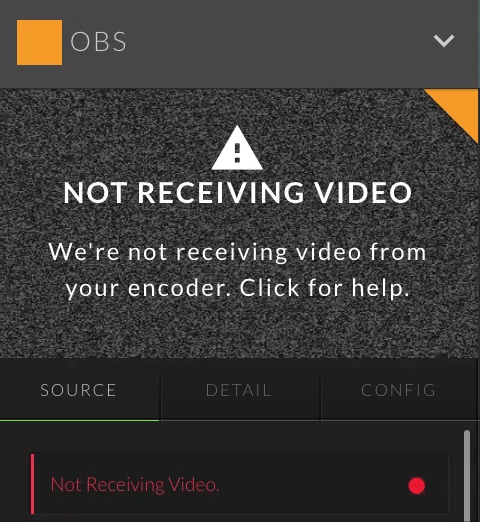 Below are some troubleshooting tips that may help to solve the issue.
If you are new to Switchboard Cloud, you will need to connect it to your encoder. Follow the steps in the support article below to get you started:
Ensure that your encoder is on and sending video to your Switchboard Cloud confidence monitor.
Some Encoders have a "Go Live" button that you must press to start sending video to Switchboard Cloud.

Double-check the configuration between your Encoder and Switchboard Cloud.
Choose the appropriate Server Region for your location; this article goes over the steps on how to change your Server Region:
Make sure that your Stream Server / URL and Stream Key match the appropriate fields in your encoder.



Reset or reboot your encoder if it does not use a Stream Server / URL and Stream Key to connect to Switchboard Cloud.
Check that your encoder uses the most current and up-to-date software.
Perform a speed test to check your internet settings.
Remember, the upload speed is more important when you are live streaming.
---
Scenario 2
See Static on the Switchboard Confidence Monitor
If you are sending video into your Switchboard account but are seeing static on the preview window, you may still be able to go live to your destinations if the following are true:
The status shows the words "receiving" with a green dot.

A Value for the resolution

A Value for the incoming bitrate.