Workflow Page
The Workflow Page is split into 2 components: the Workflow Pane (left) and the Destination Pane (right).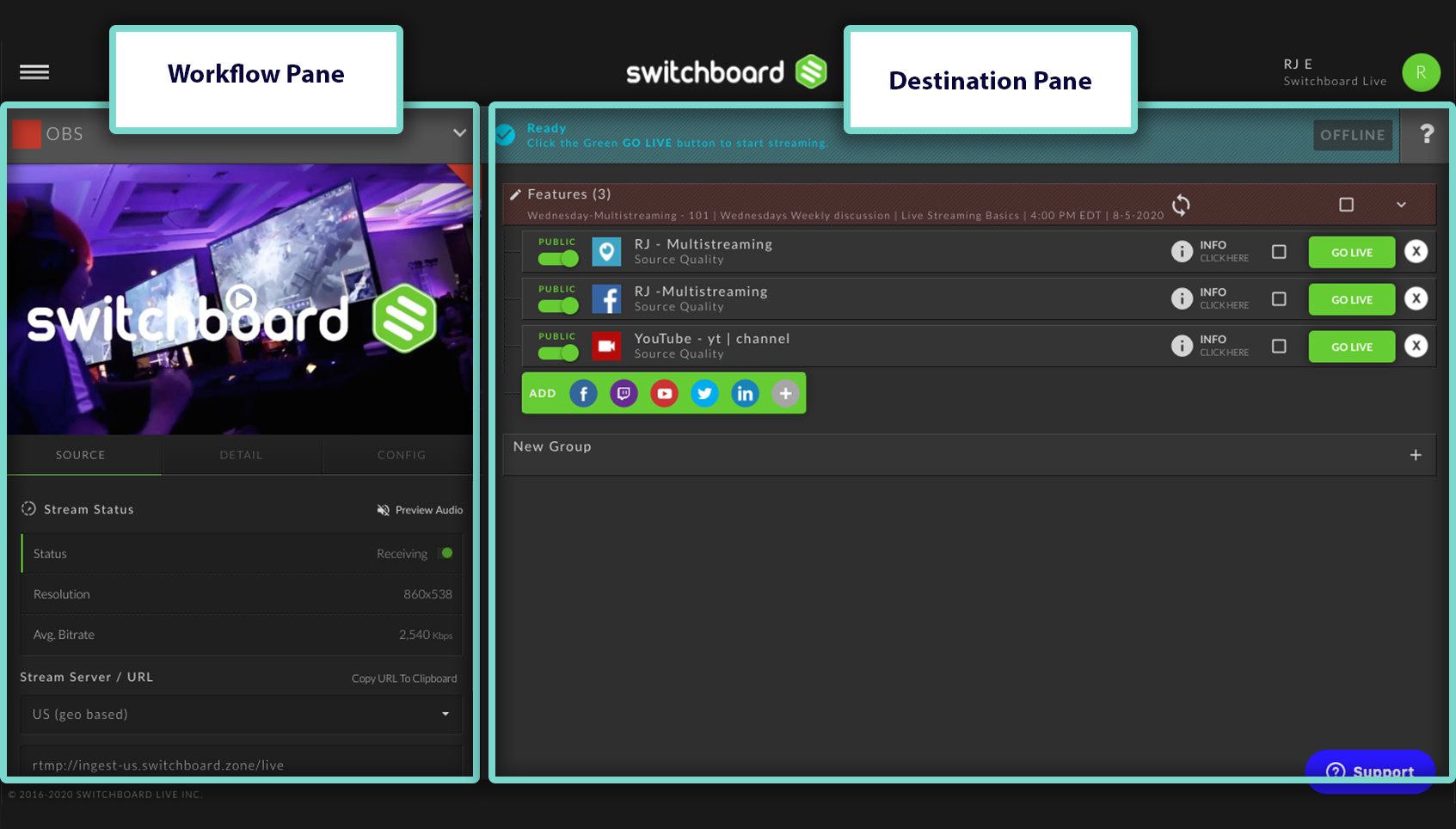 Workflow Pane: View the Confidence Monitor, Encoder details, and Detail of your stream information
Destination Pane: View the current Destinations you have attached to your selected Workflow
Workflow Pane
The Workflow Pane allows you to select and configure your Encoder, view your Confidence Monitor, and check your stream's Detail.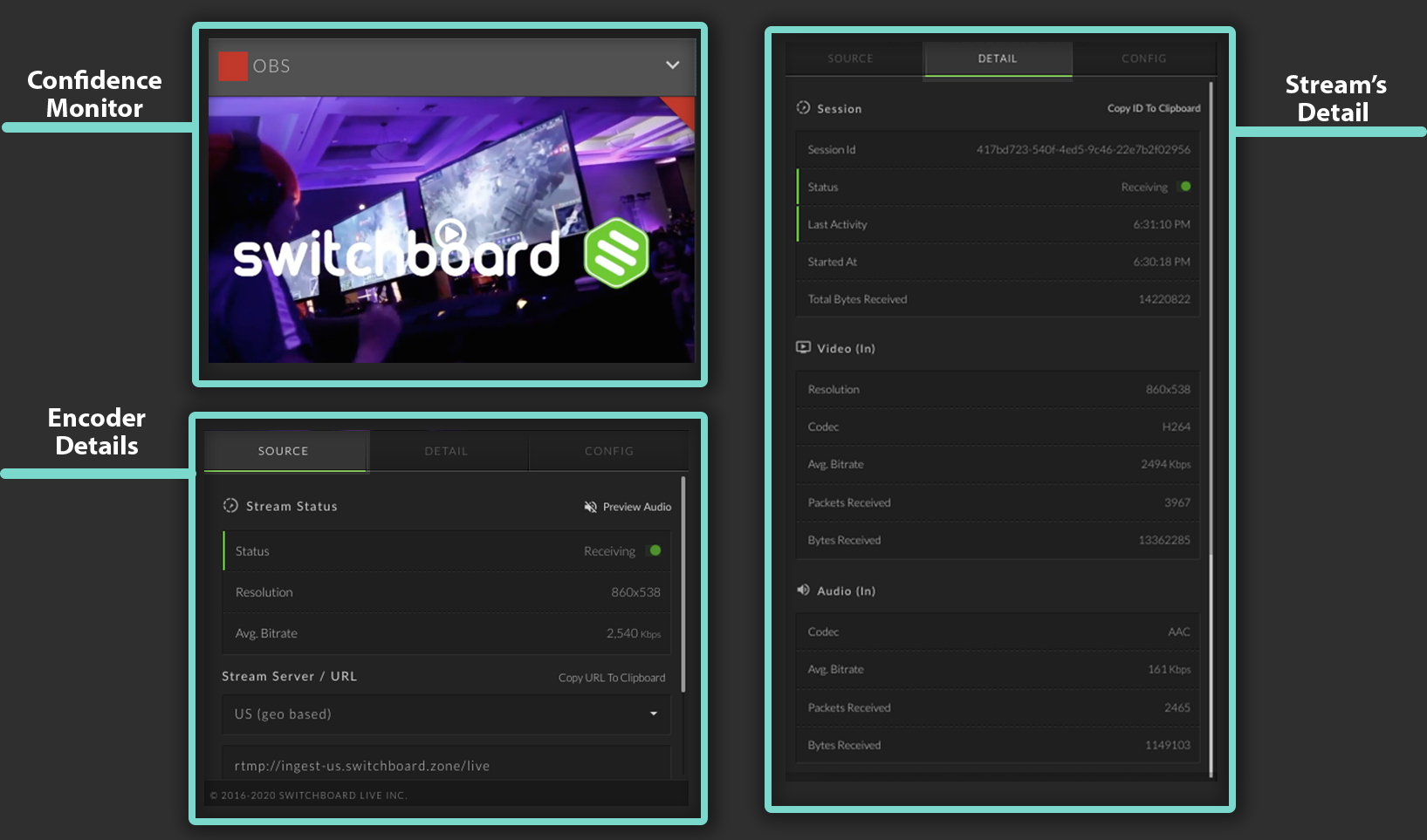 Workflow Dropdown: From the dropdown menu, you may Select, Create, or View All Workflows to monitor all inbound streams


Confidence Monitor: View your incoming Sourced Encoder


Source Tab: Displays the Encoder information for your workflow:




Overview: Shows the Status of your Encoder in relation to Switchboard Live's Servers. Overview also allows you to Preview Audio by holding down on the button, and see your Resolution and Average Bitrate.
Source Name: The internal name for your Encoder
Source Type: Defines your source encoder as RTMP or Stream Link. This will determine what displays in this tab.
Encoder Region: (RTMP) The Switchboard Live server you connect to, select the one closest to you.
Address / FMS URL: (RTMP) The Address to the Switchboard Live Server in the Encoder Region you selected.
Stream Key: (RTMP) A unique code used to identify your stream.
Link To / Source Stream: (Stream Link) This is will create a secondary Virtual Encoder of the Primary Encoder you link to.



Detail Tab: Displays the technical details of your incoming stream:



Session: Shows your Unique Session ID along with the Start Time, the Last Activity, and Total Bytes Received between your Encoder and Switchboard Live's Servers.




Video (in): Shows the incoming Video Stats of your stream. i.e. - Resolution, Codec, Average Bitrate, Packets Received, Bytes Received




Audio (in): Shows the incoming Audio Stats of your stream. i.e. - Codec, Average Bitrate, Packets Received, Bytes Received



Destination Pane
The Destination Pane allows you to select and configure your Destination's meta data by selecting a Template, add and manage Destinations tied to this workflow, and monitor your Destination's Status.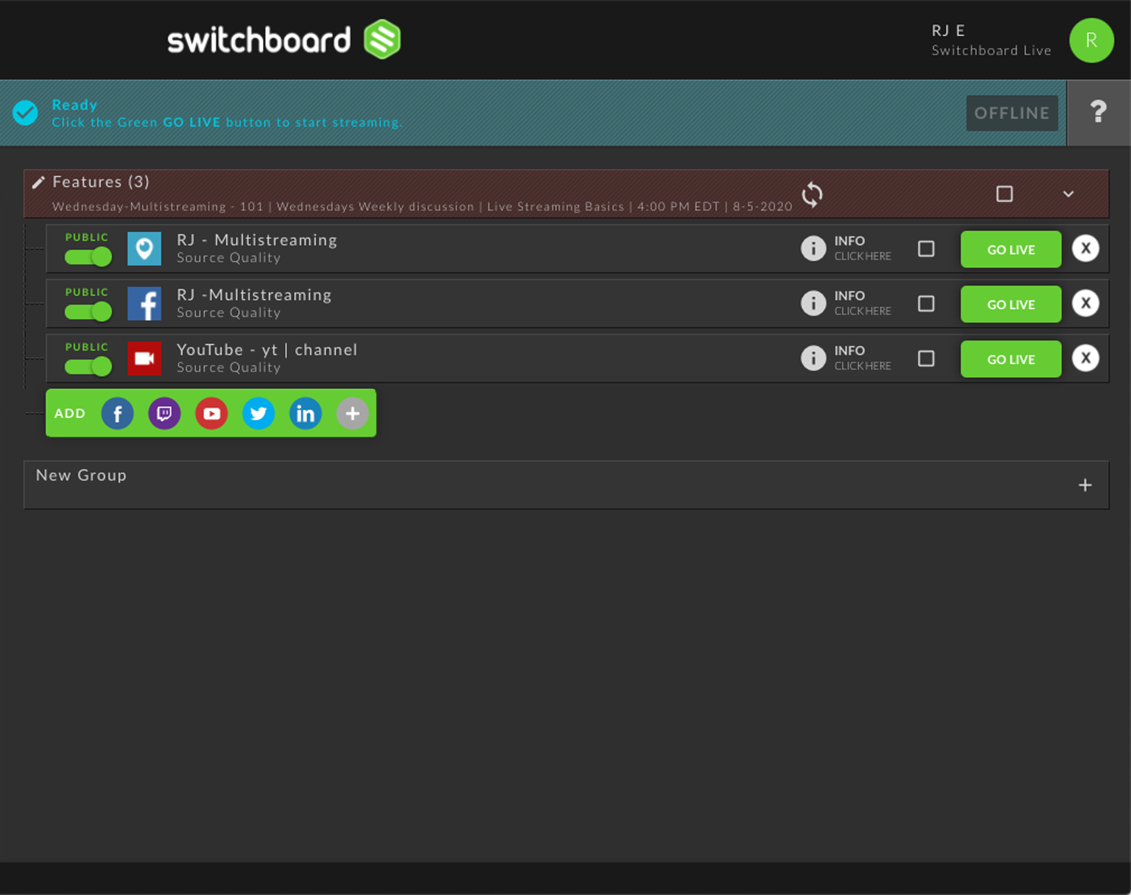 Template Dropdown: From the dropdown menu, you can Select the predefined Metadata you want to appear on your Destinations when they Go Live.



Status Indicator: This displays the Status of the Destinations tied to your current Workflow.
Destination Grouping: Group your Destinations to simplify large amounts of Destinations.


Destinations: Each Destination contains its own set of data:





Status: The status of an individual destination is represented by one of five colors.
Icon: Each destination has a unique icon that doubles as a link to that platform's page.
Name: This is the internal name that you created for the destination. Remember, only you can see this name.
Quality: Your video quality will be shown if you're Transrating, otherwise it shows Source Quality.
Info: View technical details of an individual destination's stream i.e. – broadcast, session, video, audio.
Bulk Select: You can Select All destinations in order to simultaneously Start/Stop streams, Transrate, and Remove Destinations from Workflows.
Edit: Update the destination's internal name with the edit button.
Go Live: Start streaming to a destination by clicking the Go Live button.
End Stream: To stop streaming to a destination click the Stop Streaming button



Add Destinations: This allows you to add New or Existing Destinations to your current Workflow.