Witness the evolution of Switchboard Cloud! See what's new, what's fixed, or just take a trip down memory lane to see what bugs we left decimated in our wake.
---
June 2023
---
April - July 2022
Templates


Twitter stream title field.

Further customization for your multistream. This additional field can be used for the unique language only found on Twitter!


Twitch Game

Use this field to enter in the name of the Twitch game you're live streaming. This eliminates the extra step of logging into Twitch and updating the streaming info.

Create New Group


Easier to create new destination groups on your workflow.


Update Switchboard Account information

Update Company Name and Industry
Update details like first last name, and phone number.
Viral StreamShare™ (beta)


Now available! Create a Viral StreamShare™ group on any workflow.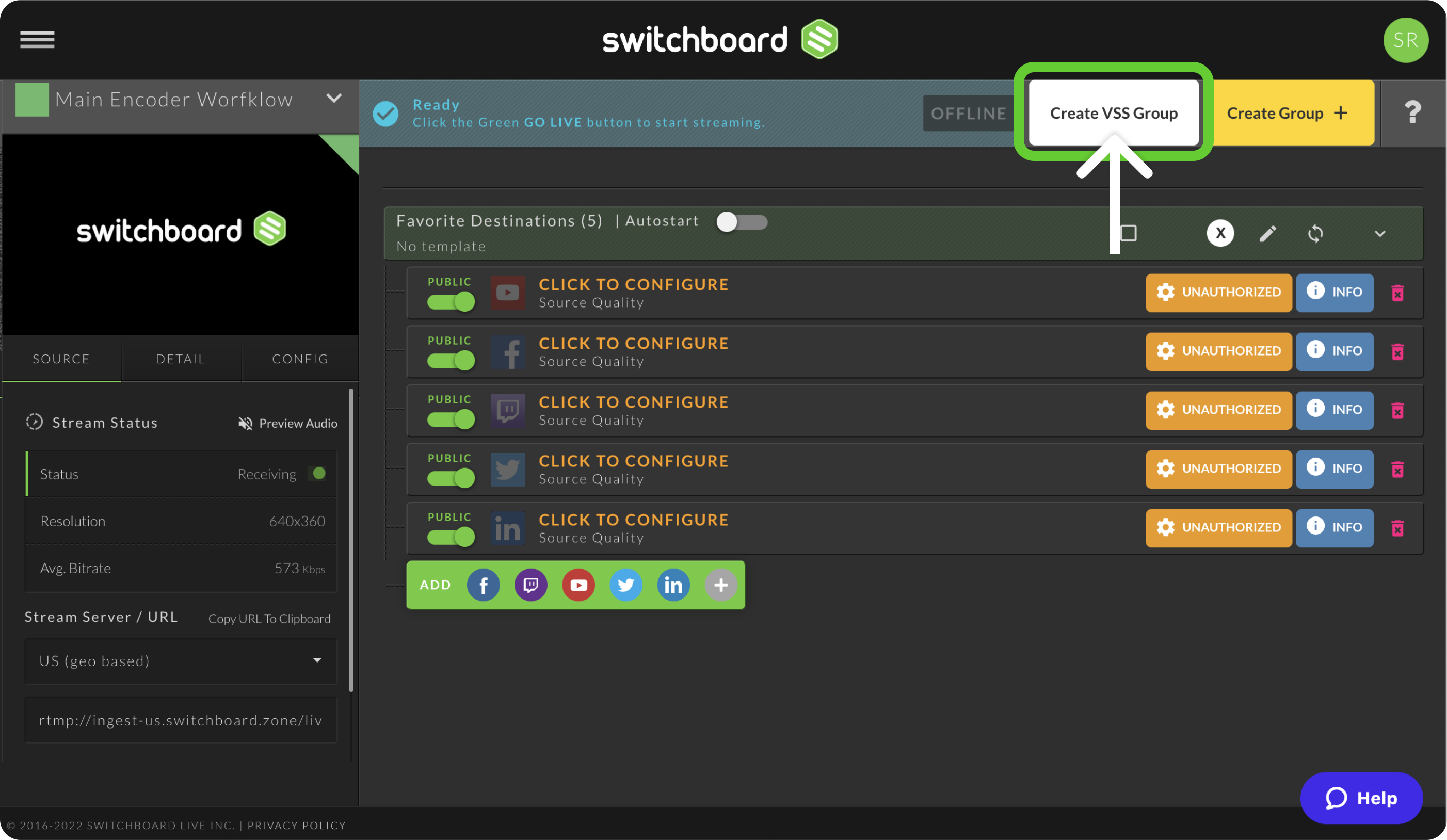 Ability to Go Live to Telegram


Learn how to multistream to all your desired destinations, including Telegram!

Custom RTMP destination name


Adding and renaming a new Custom RTMP destination just became easier!
Now you can provide the Custom RTMP Name during the initial configuration step.
No more - going back to rename the Custom RTMP destination.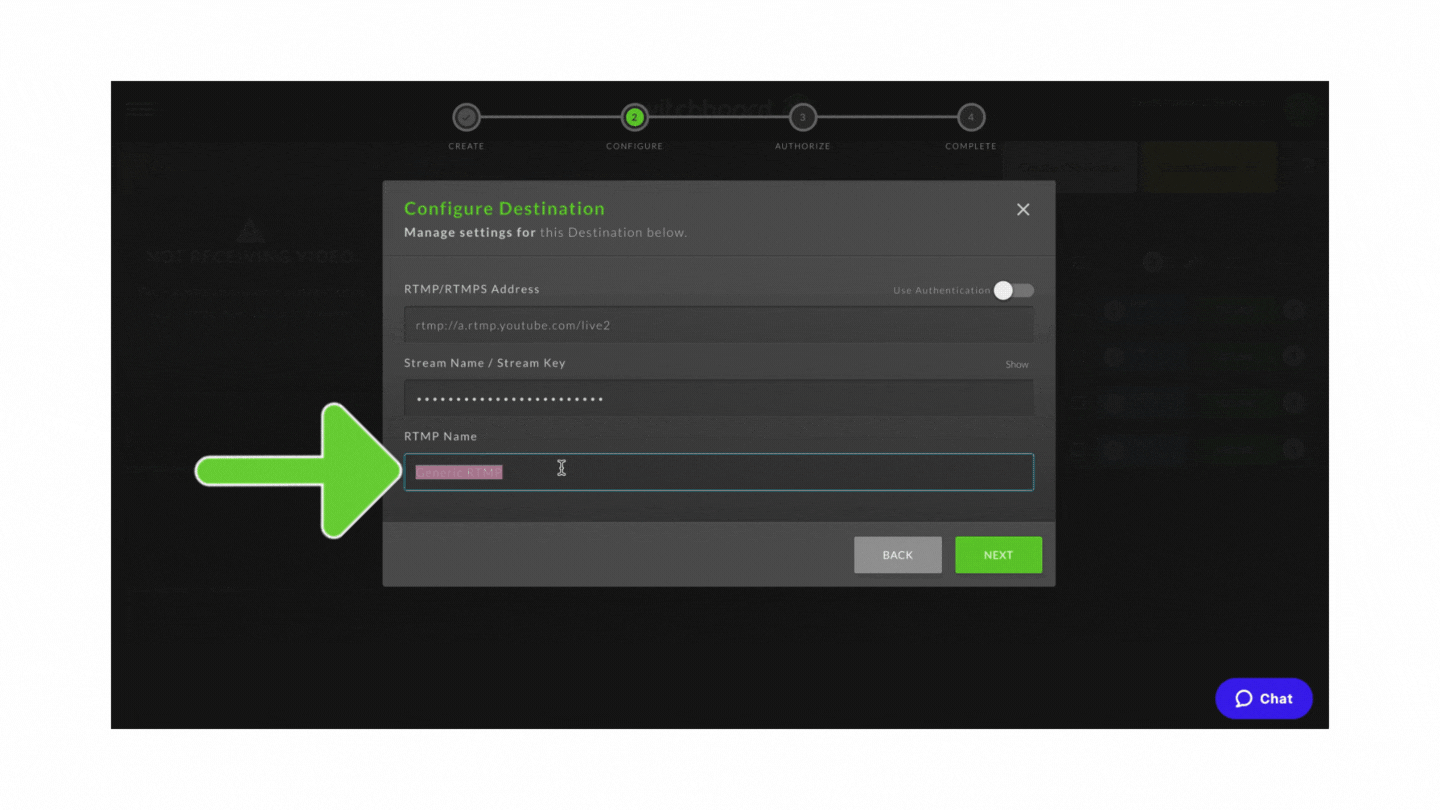 Create New Template from the destination group header.


Now you can access and create a new template directly from the destination group header.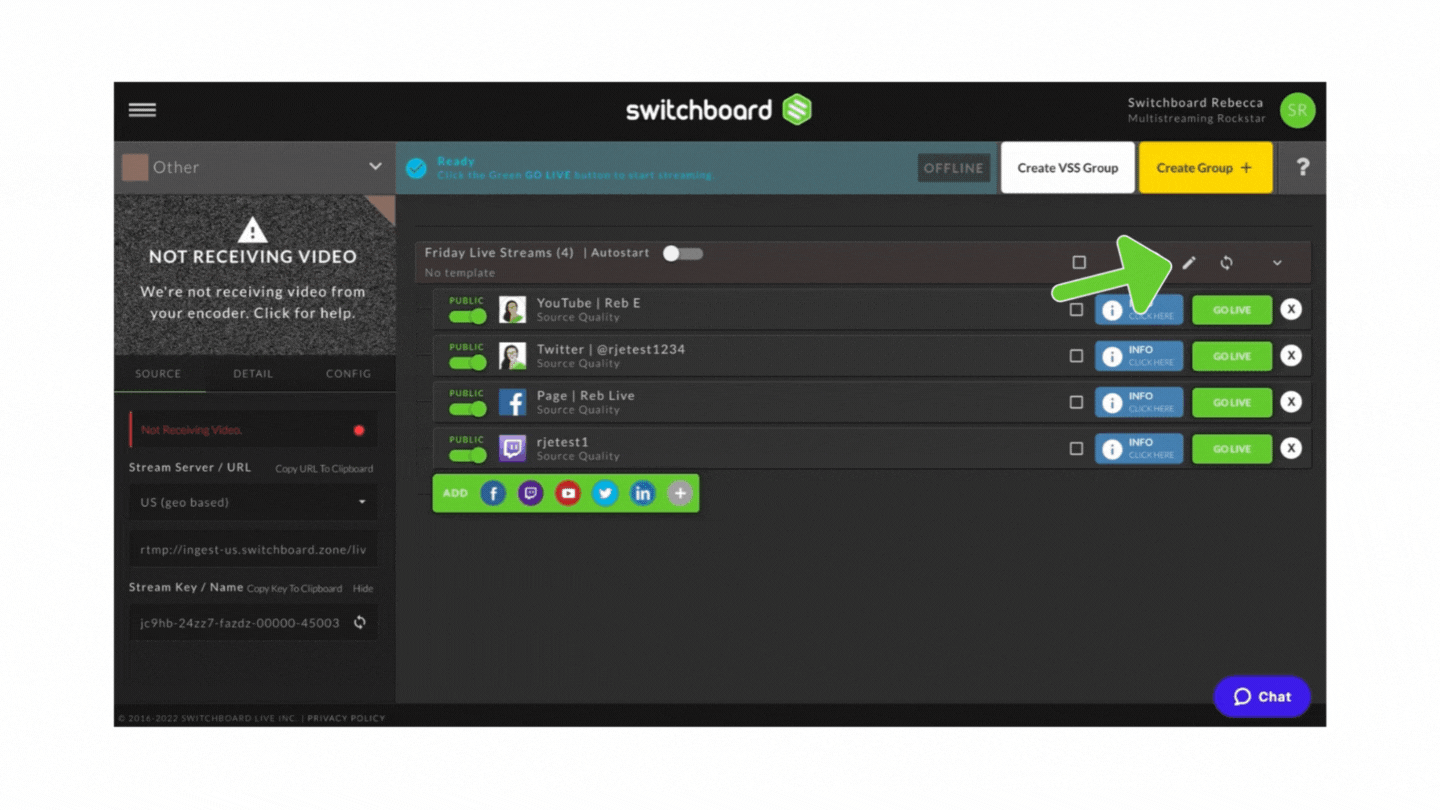 Sign in with Google


Much easier to sign into your Switchboard account when you connect and Sign In with your Google Account.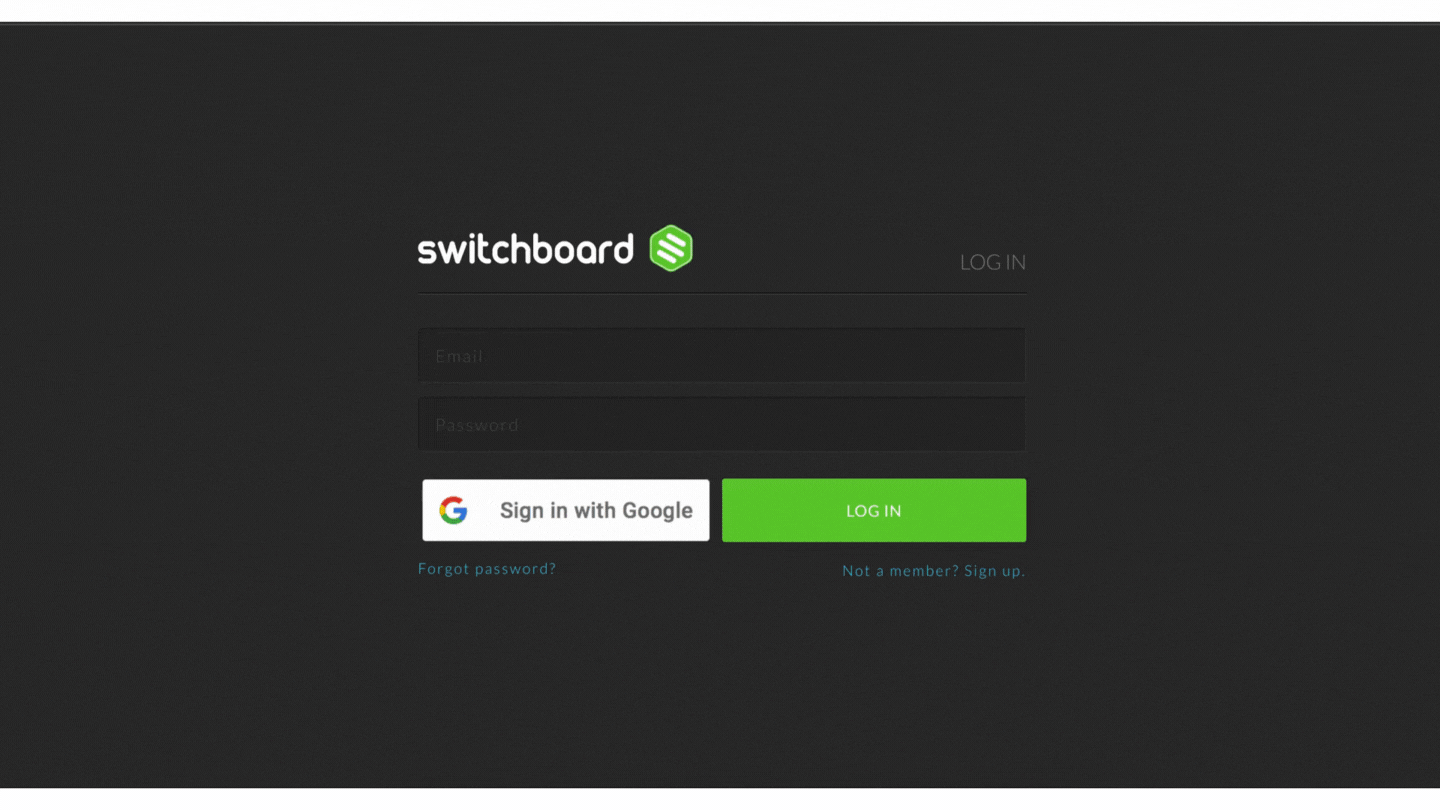 ---
January / February 2022
Viral StreamShare™ (beta)


You've heard about our classic StreamShare™ feature, which lets you go live on a friend, guest, or colleague's social channels.
Viral StreamShare™ is revamped and easier to use. Check it out and see for yourself.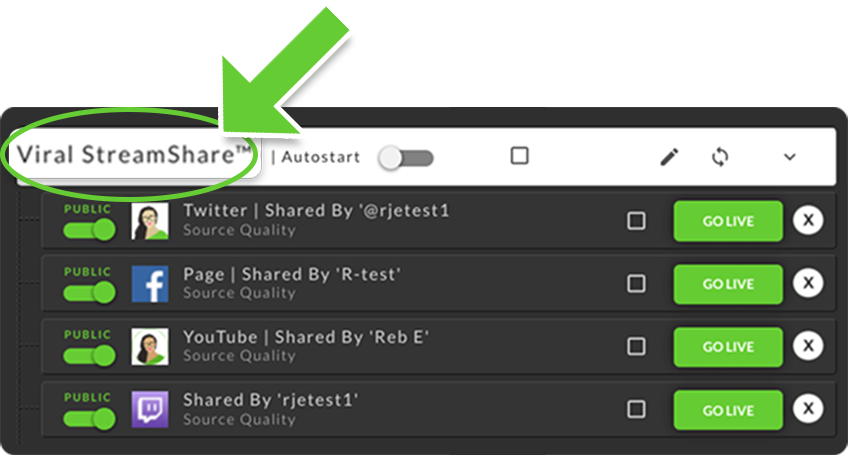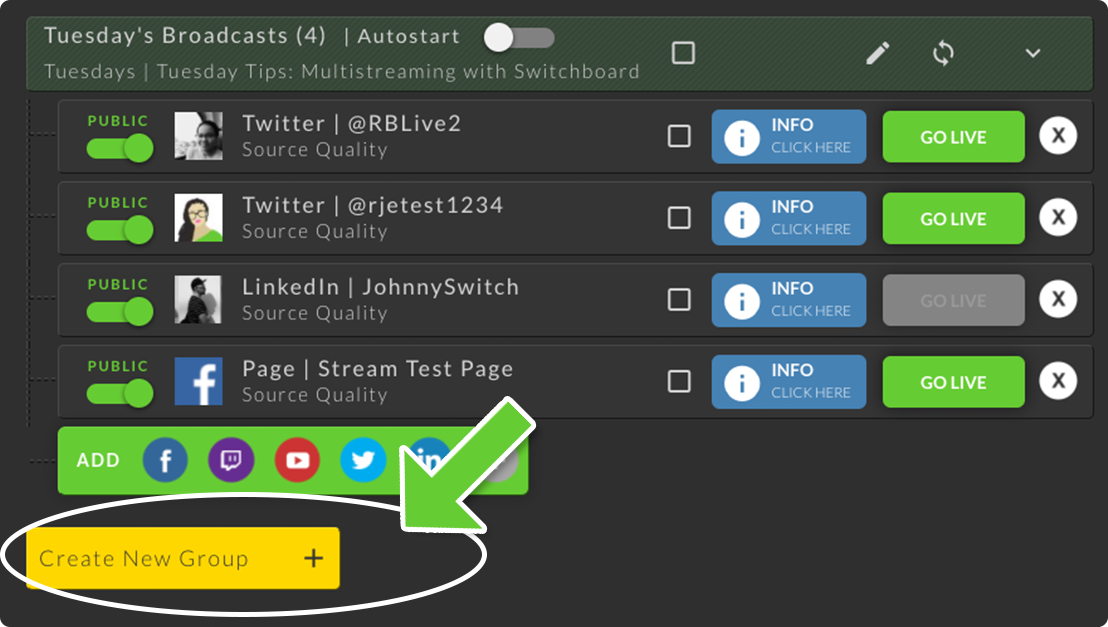 Pencil Icon

We moved the pencil icon to make it easier to find and update your stream title.

Removed the Facebook Schedule feature on the Template page with hopes to offer a more integrated scheduler in the future.
---
HAPPY NEW YEAR!
---
October 2021
The ability to show the Twitter handle to easily identify within the workflow.
September 2021
Support for Twitter API.
Bye-bye periscope.
August 2021
Ability to enable the autostart feature directly from the destination group header bar.
July 2021
Watch Icon on the Switchboard dashboard

Click the icon to watch the stream live on your destination (no custom RTMP destinations)

Improved Confidence Monitor

Better support and performance in browsers other than Chrome.
Improved support for when the source stream starts and stops via an encoder.

Improved subscription and billing management.
Continued backend performance improvements.
Epiphan Pearl Mini, Pearl Nano, and Pearl-2 have been added.
April 2021
Launched our game-changing feature AutoStart!
You don't have to log into your Switchboard account to press Go Live.

Turn this feature on prior to sending video from the encoder into the Switchboard account.

Live video will publish to the destinations groups that have this feature enabled.

March 2021
Added new separate fields for Facebook and YouTube stream titles

For Facebook: The title of the live video. Maximum 254 characters.
For YouTube: The title of the live video. Maximum 100 characters.
StreamShare™ feature update

Added expiration date option for basic StreamShare™ invite via email.
Added date picker (option) drown down for StreamShare™ invite email.


January 2021 - Happy New Year!
We recently upgraded and improved our onboarding process so that it is simpler, cleaner, and easier for individuals and businesses like yours to get started with Switchboard.

We are now offering an added option for users to connect by way of a Cloud Encoder.

Appearance of the Info and Authorize destinations buttons have been designed to be more visible.
Release 2.01
Wednesday,

November 18

, 2020 (Happy November)
We implemented better backend routing logic for our streaming zones and have consolidated a few location points to streamline the process moving forward.

US West North - ingest-us-west.a.switchboard.zone
US West South - ingest-us-west.b.switchboard.zone
US East North - ingest-us-east.a.switchboard.zone
US East South - ingest-us-east.b.switchboard.zone
Have been consolidated to:

US East - ingest-us-east.switchboard.zone
US West - ingest-us-west.switchboard.zone

Be sure to update your encoders to the zones listed above.
NOTE: The previous zones will work until 12/31/2020; we will provide more communication about the decommissioning of these zones.
Release 2.2
Thursday,

October 1

, 2020 (Happy October)
Full support for YouTube Live's Control Room. Starting today (10/1) YouTube has removed support for the old way to go live (Classic Streaming). The new Live Control Room is the way to go. If you haven't seen the added features that YouTube has implemented we highly suggest you check them out. Here is a link to view detailing some of the recent additions.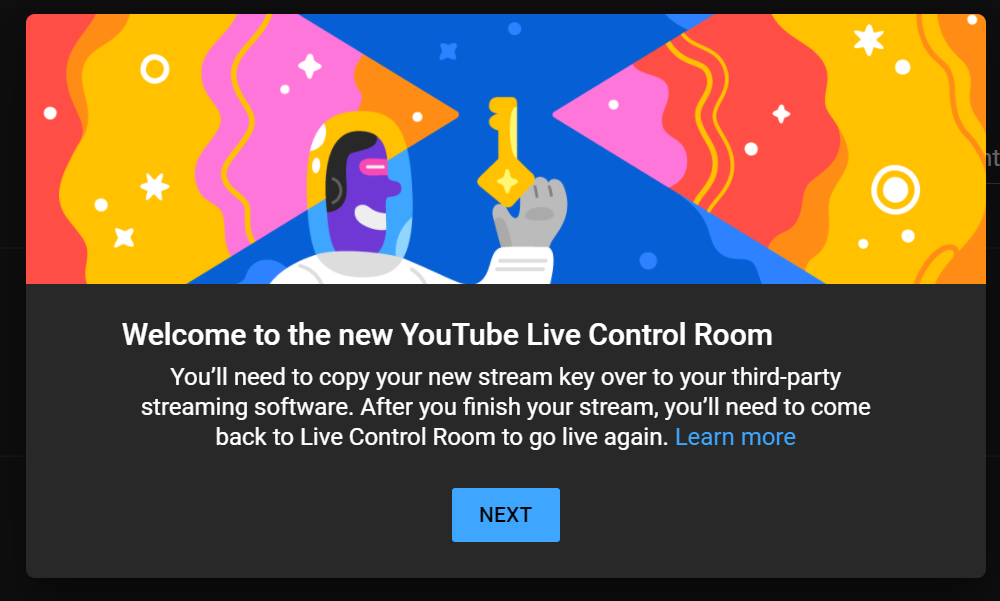 The support for YouTube's New Live Control Room should improve the following:

Errors when starting your live streams
Issues when adding a new YouTube Live channel and getting the dreaded Live Streaming is not Enabled for this Channel error, when in fact it is.
The ability to see informative real-time analytics of the stream health and viewers: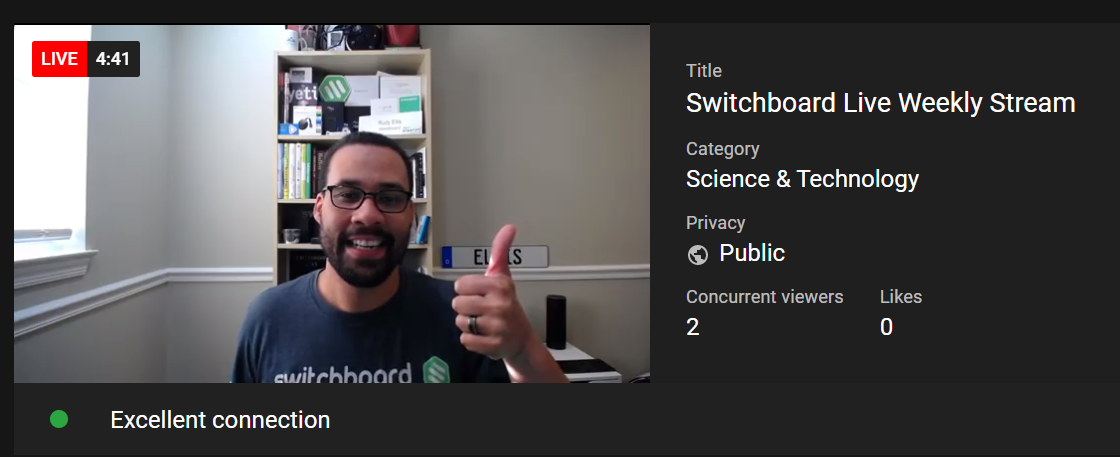 For the latest in YouTube updates we also

recommend following the YouTube Creators official channel; tons of good information is provided there.
Thursday, September 17, 2020
Added Facebook Producer and YouTube Studio links to destination status section
Introduced Alpha version of Switchboard Embed Player with ABR delivery; currently only the Chrome browser is supported
Thursday, July 2, 2020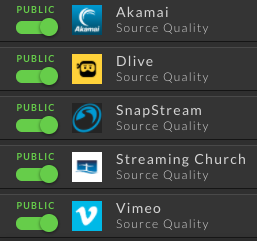 Fixed a bug when adding a new destination and then selecting the option to "Add Another Destination". Previously this would not add the new destination to your current workflow; this is fixed now.
When you add a Custom RTMP destination, we now append a number to the name so that you can differentiate it between a second Custom RTMP destination. NOTE: you can always rename a Custom RTMP destination. Here is an article that shows you how to do so.
Release 2.1.x
Thursday, June 25, 2020
So we have been a little bit behind updating this article with the latest and greatest. I have included highlighted items of significance as to what we have done over the past few months, in no specific order. The biggest undertaking was the backend (non-customer facing) improvements!
Broadcast Pix has completed an integration of Switchboard Cloud within their StreamingPix product.
Added the ability to set a YouTube & personal Facebook Page destinations Public/Private
NewBlue Stream has added Switchboard Cloud as a destination within their newest application
Fixed YouTube API authorization bug
Added SnapStream as a destination
LiveU Solo integration has been updated to include Switchboard Cloud as a One-Touch Streaming destination.
Added Streaming Church as a destination
Removed Mixer as a destination
Updated the onboarding flow - New onboarding video
Added a destination authorization check button
Updated the design of our Branded Stream Share pages for our business customers
We've done a ton of work on our backend...
We've migrated our entire backend API to Google Kubernetes Engine (a very huge undertaking). This will help with overall system performance and enhance scalability moving forward.
We've upgraded our backend framework two versions; this was long overdue and necessary to help us debug issues when they arise as well as application performance upgrades. This was long overdue and unfortunately took waaaayyy longer than originally planned. Yeah, we learned a lot during this process.
Until next month!
Release 2.1.5
Friday, December 20, 2019
Features
Full LinkedIn Live Support - Streaming live video to LinkedIn Live as a destination is now supported within Switchboard Cloud. You must first make sure that you have been approved via LinkedIn prior to attempting to add your LinkedIn individual page or company page. LinkedIn support has also been added as a share destination.

You can request access here: https://www.linkedin.com/help/linkedin/ask/lv-app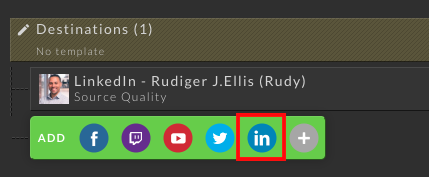 Please make sure to have live video present in your live confidence monitor, prior to starting multistreaming to LinkedIn Live. The Go Live button will stay grey until live streaming video is present and detected in the confidence monitor.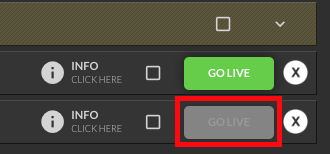 Watermark Image Removal - Added support to remove uploaded watermark image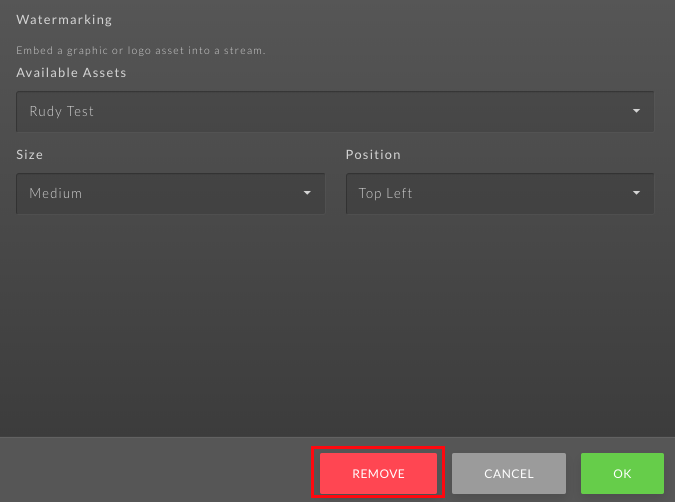 Improvements
Channel Image Icon - The default channel icon will be displayed for Facebook, YouTube, and LinkedIn destinations.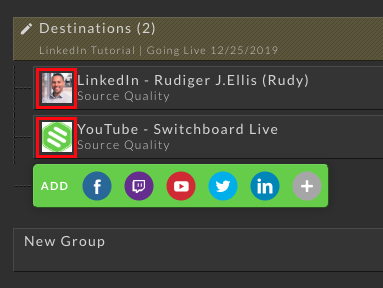 Regenerate Stream Key - Only Switchboard Cloud account owners can regenerate stream key.
Disable Onboard Wizard - Added option in the management option to disable the onboarding wizard; recommended for experienced/advanced Switchboard Cloud users only.
Release 2.1.4
Thursday, October 10, 2019
Features
Facebook Scheduled Event - We have added support in Switchboard Cloud for scheduling a Live Facebook Video Broadcast within Switchboard Cloud; to learn more, read the following support article with the steps on how to do so.
Design Changes
Edit Group - We repositioned the edit group icon from the far right to the left of the group name.
Group Title

–

The Stream/Post Title field from the Active template is now displayed when an Active template is selected and a channel is added to the group; see image below:


Improvements
Templates – Templates are now assigned on a per-group basis; this will allow you to create and assign different templates per group to allow for different copy (text) on your destination channels; see image below:


No Workflow Present - When no encoder workflow is present (for whatever reason), now there is a way to re-add an encoder workflow. Just click the text No Encoder Workflows Found - Click here to add one text to add; see image below:


We've also made a handful of changes over the past few months that are too many to list. Our goal moving forward is to keep this updated on a monthly basis, and will also include and call out major updates in our newsletter. If you are not subscribed to our monthly newsletter I encourage you to stop what you are doing and do so now -- Click here to sign up!
Release 2.1.3
Thursday, May 16, 2019
Features
Onboarding Wizard

– Upon log-in, first-time users are now presented with a step-by-step wizard to learn how to add destinations, set-up encoders, and start multistreaming with Switchboard Cloud.

Mevo Live Camera Compatibility

– Mevo camera users can now use their camera to stream to Switchboard Cloud using Mevo's Custom RTMP streaming option.

Facebook RTMPS

– As of May 1, 2019, Facebook API only supports live streams using RTMPS. Switchboard Cloud has been updated to support this change.

12 Ingestion Points

– Users now have 12 regions to choose from when setting up an encoder. This will help eliminate high latency when streaming. They include:

Asia (East, Northeast, South)

Australia Southeast

Europe (North, West)

South America East

US (Central, East 1, East 2, West 1, West 2)
Design Changes
New 'Go Live' and 'Stop Streaming' button

–

Instead of the slider button to activate your live stream, users are given the option to either 'Go Live' to begin their live stream, or 'Stop Streaming' to end it.
Release 2.1.2
Tuesday, September 18, 2018
Features
Webcaster Integration – Users of the Epiphan Webcaster X2 can seamlessly integrate their encoder with the Cloud Workflow with a simple pairing code.
Ecamm Integration – Users can now connect directly to Switchboard Live when setting up their Destination through the Ecamm platform.
DaCast Integration – DaCast users can now connect to Switchboard Live directly through Cloud's Destination dropdown menu.
Improvements
Workflow – Under the "Adding a Workflow Dropdown," users can now add Epiphan Webcaster X2.
Design Changes
A Configuration tab has been added under the Confidence Monitor, displaying the Workflow name and Source Type
Under the Detail tab, broadcast data has been consolidated into one section
The signal Status is now visible under the Source and Detail tabs.
Release 2.1.1
Thursday, August 02, 2018
Features
20 Minute Demo – All new users now get a 20-minute free demonstration of Switchboard Cloud Professional.
14 Day Trial (Self Checkout) – Users interested in getting a 14-day free trial can now do so through our self-service checkout.
Improvements
Payment Workflow – Updated our payment workflow and billing management tool.
Release 2.1.0
Monday, May 21, 2018
Features
Help Desk – Switchboard Cloud has launched its very own Help Desk to guide you through the software and show you some of the advanced features we offer. You can access this at support.switchboard.live
Default Page – We've now set the default landing page to the last Workflow you used. This will simplify things for all users.
Preview Audio – Added a new button in the Source Tab that allows you to preview your incoming feeds audio. To do this, click and hold down on the Preview Audio button, once you let go it mutes again.
Improvements
Confidence Monitor – The video monitor in Switchboard Cloud has been rebuilt. We've removed the old overlay and changed it to a standard "pause/play" button. The "Workflow Visibility" and "Remove Workflow" are now located at the bottom of the Source Tab.
Streams Button Removed – The "Streams" button that was located in the Navigation Menu has been removed. Fear not, the page still exists, but you access it by selecting All Workflows in the Workflow Dropdown on any Workflow Page.
Viewing A Workflow – Prior to this build, you'd access your Workflow by hovering over the Confidence Monitor and clicking the icon. This has been changed.
Adding Workflows – We've revamped the system for Adding Workflows. When adding, you'll be prompted with a modal to add your Workflow's Name, and select whether you want an RTMP Push or a Stream Link. Furthermore, you can now add them on two different pages...
Adding Workflows via All Workflows –Add by clicking the "+" button in the sub-navigation menu.
Adding Workflows via Workflow – Add by selecting "Add Workflow" in the Workflow Dropdown.
Creating Templates – We've added a new system for Adding Templates. You can now do this on your Workflow page by selecting the Template Dropdown and choosing Add Template. It will prompt you to enter the name of your Template, followed by the Metadata. Once saved, it will propagate to your platforms, even if your live.
Stream Key – Default state of your Stream Key is now masked. There is a Show/Hide button above the input that will toggle its viewable state.
Bug Fixes
Alerts – Revamped a lot of general alerts and warnings across Switchboard Cloud. They should now be easier to digest for those that don't read binary.
All Workflows Carousel – Issue where the carousel would start at the last item rather than the first has been resolved.
Team Invite – Fixed an issue with invalid email addresses throwing an error.