OBS is a free and open-source software that allows you to record and stream video from a number of sources. This article walks the user through the steps of linking your OBS source to Switchboard Cloud.
Adding a Source
Click Add Source
Choose from the menu which source you want to use for your stream †To hide the source from your display, click. To show the source again, click.†

Common Sources
BrowserSource 
Any webpage being displayed by an internet browser will be added to your stream.
Click Add Source > BrowserSource
Click Create New, give the source a unique name, click OK
Provide the URL address, the dimensions (Width + Height), and Frames Per Second (FPS)
Click OK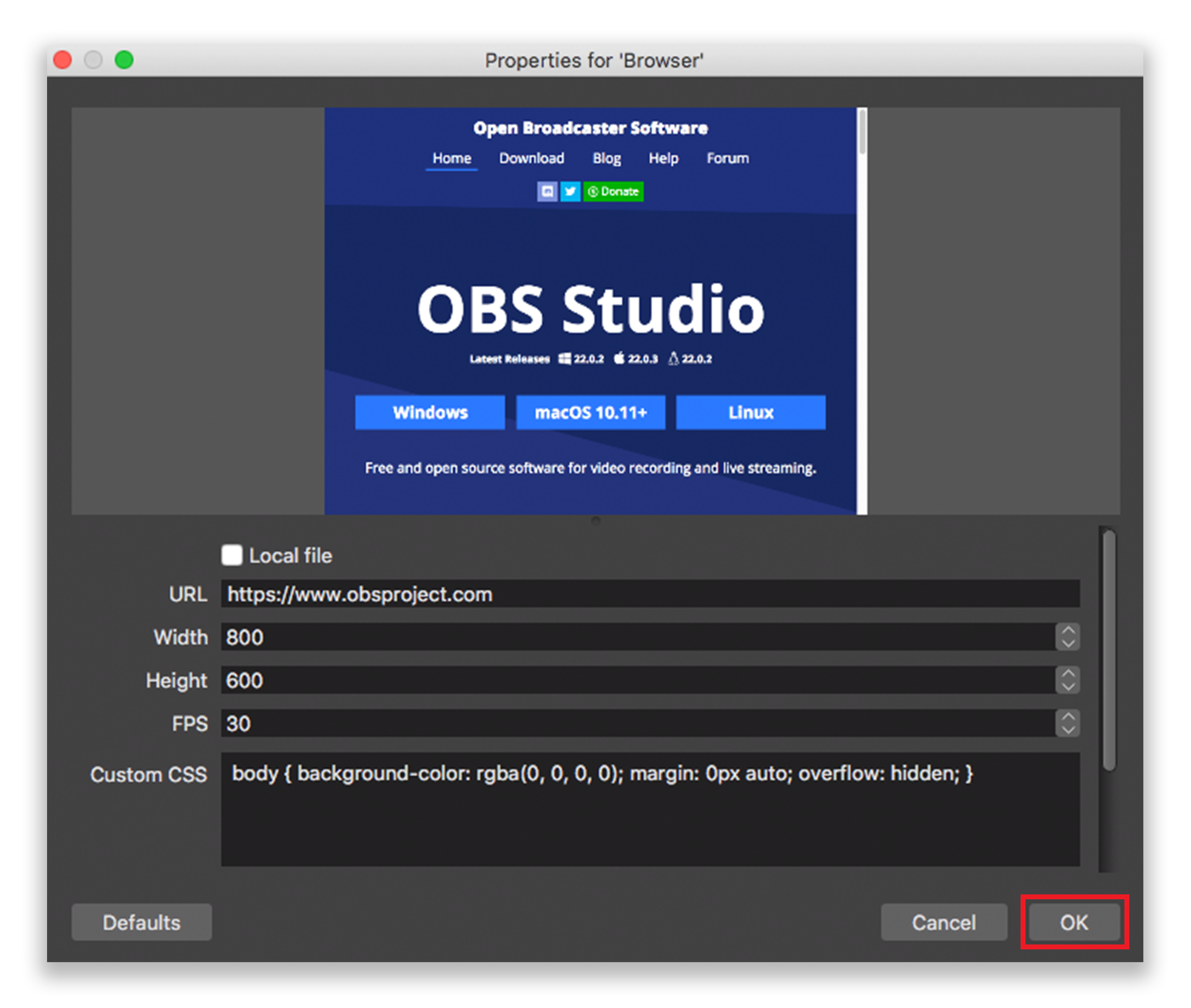 Video Capture Device 
These include devices such as cameras, webcams, or smart phones that capture video.
Click Add Source > Video Capture Device
Click Create New, give the source a unique name, click OK
Click the Device Dropdown, choose the device that you want to stream video from
If necessary, adjust the video Resolution, click OK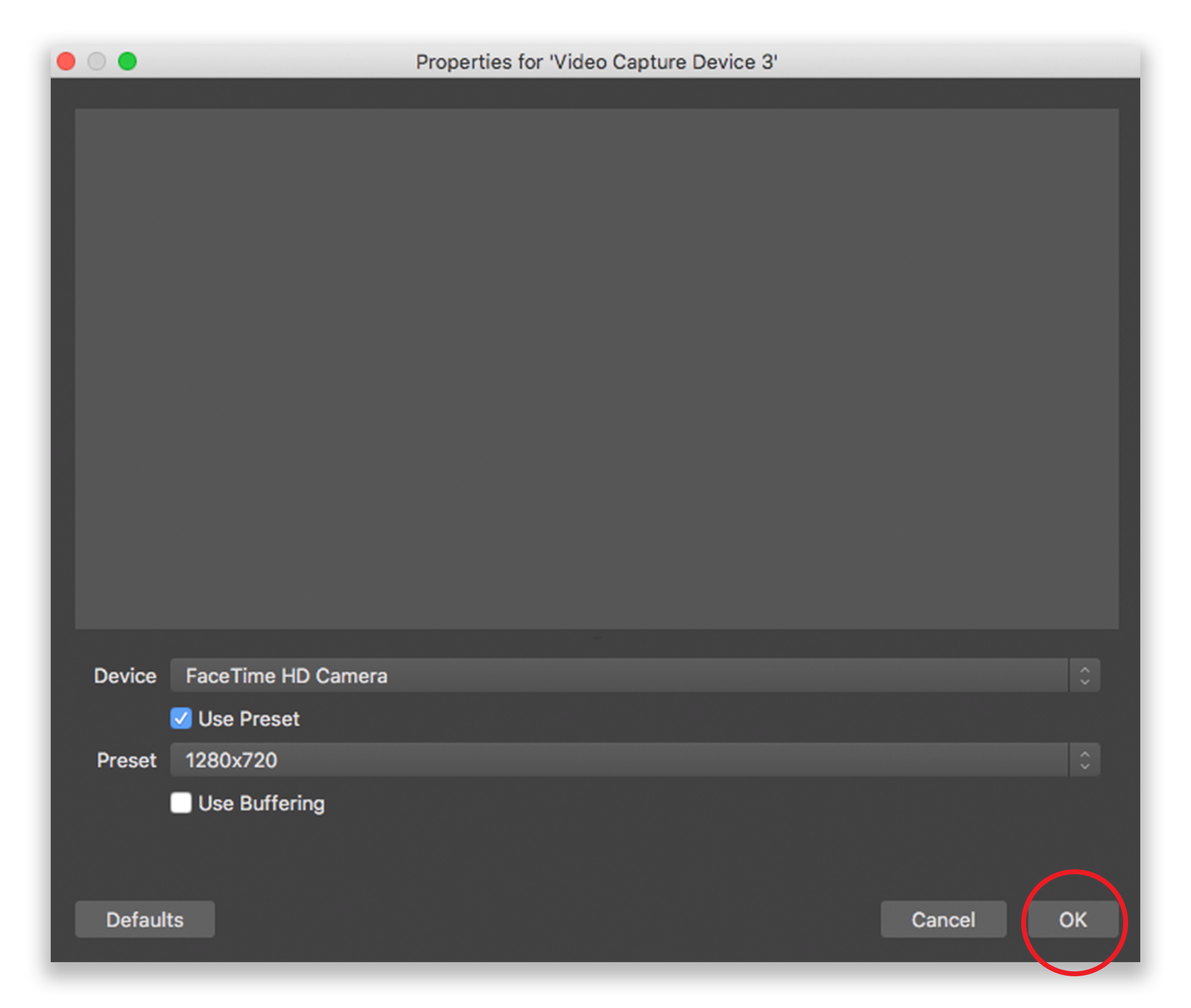 Window Capture 
Similar to Display Capture, Window Capture displays a very specific section of your monitor that you want displayed with your stream. 
Click Add Source > Window Capture
Click Create New, give the source a unique name, click OK
Click the Window Dropdown, choose the component of your screen that you want to display†Only windows that are open will appear in the dropdown menu.†
Click OK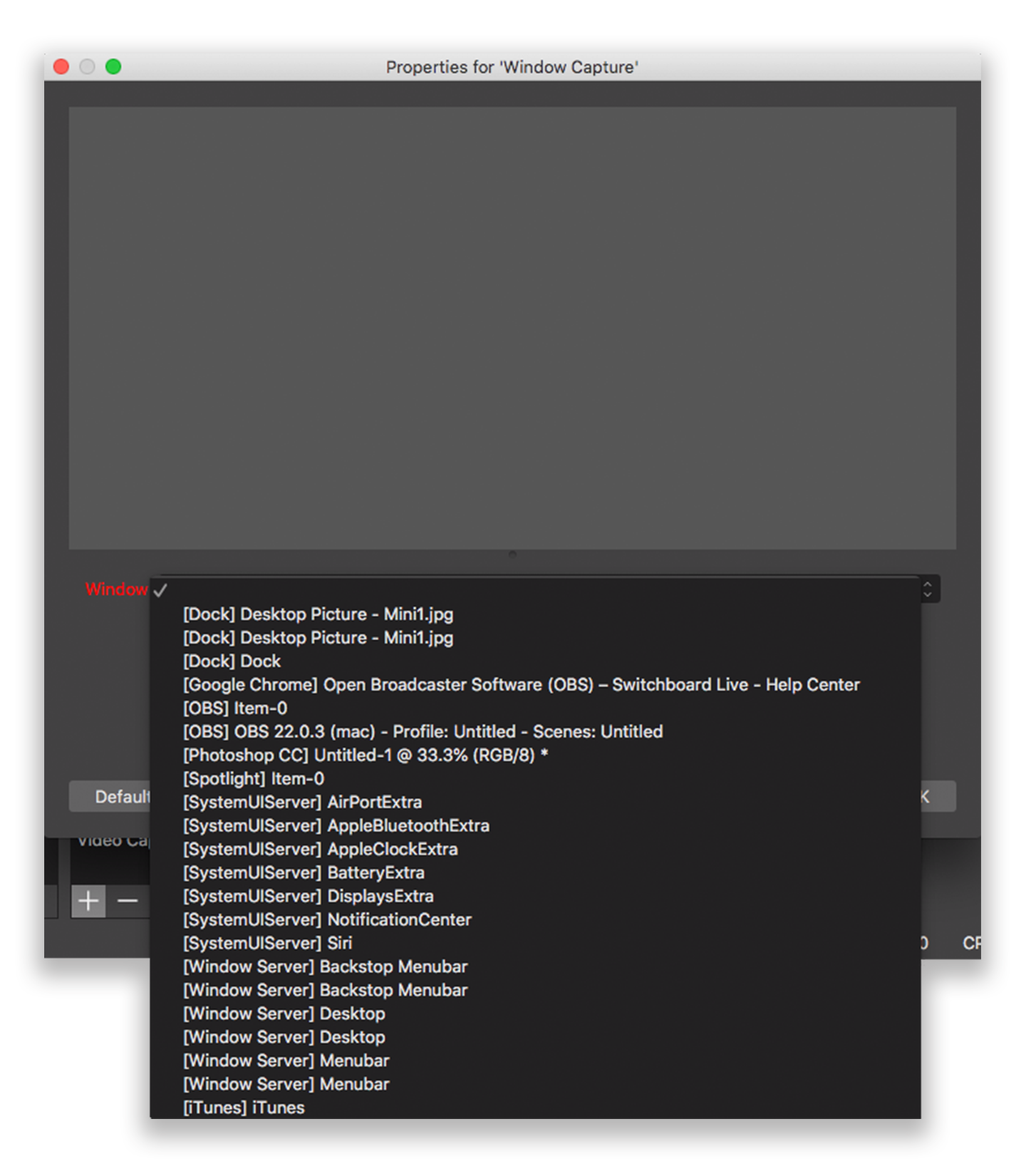 Settings
Click Settings > Stream
Choose Custom Streaming Server
Input the Address/FMS URL and Stream Key from your Switchboard Workflow
Click Output to choose your Video Bitrate †Refer to "Choosing Your Bitrate" in order to ensure a reliable stream.†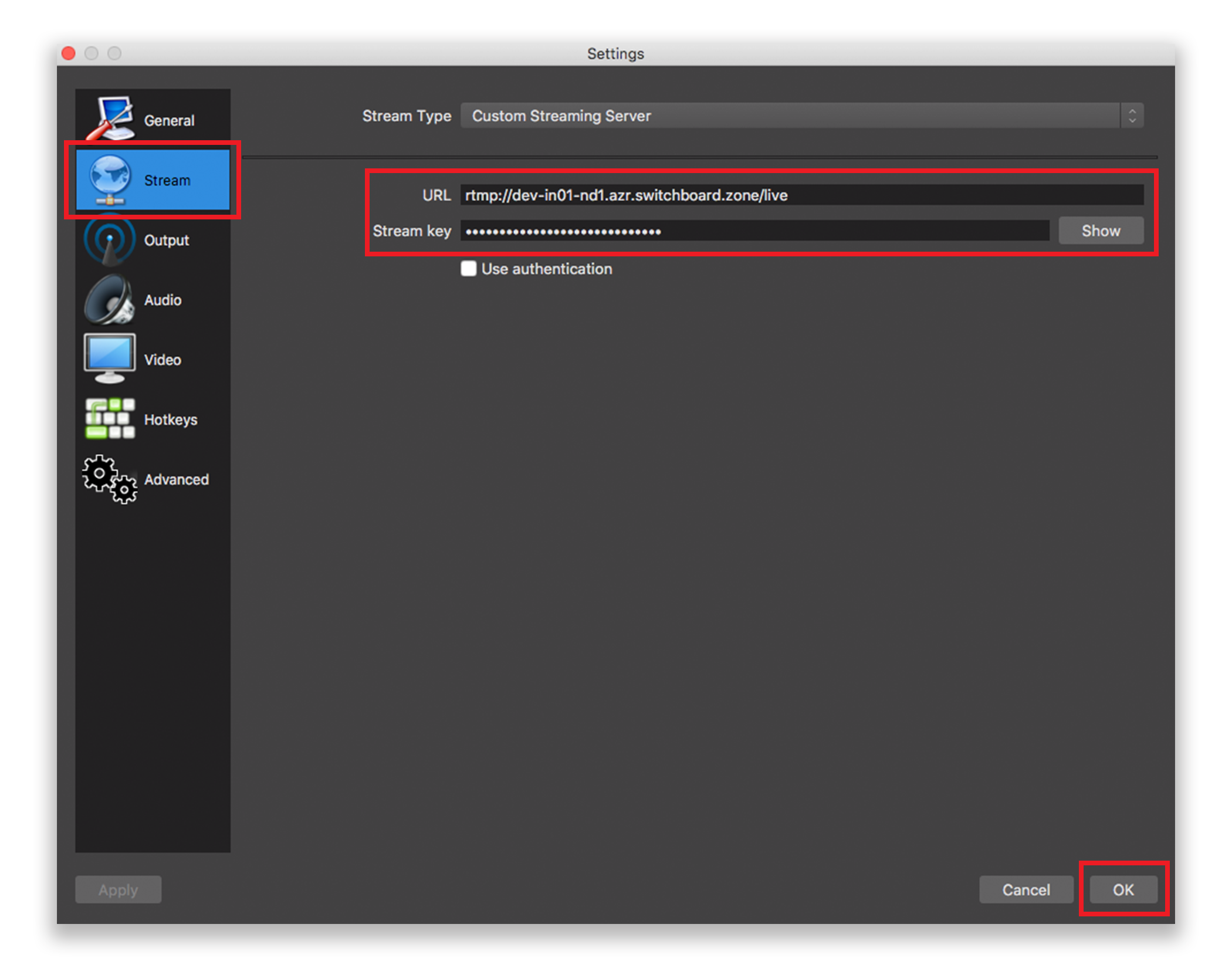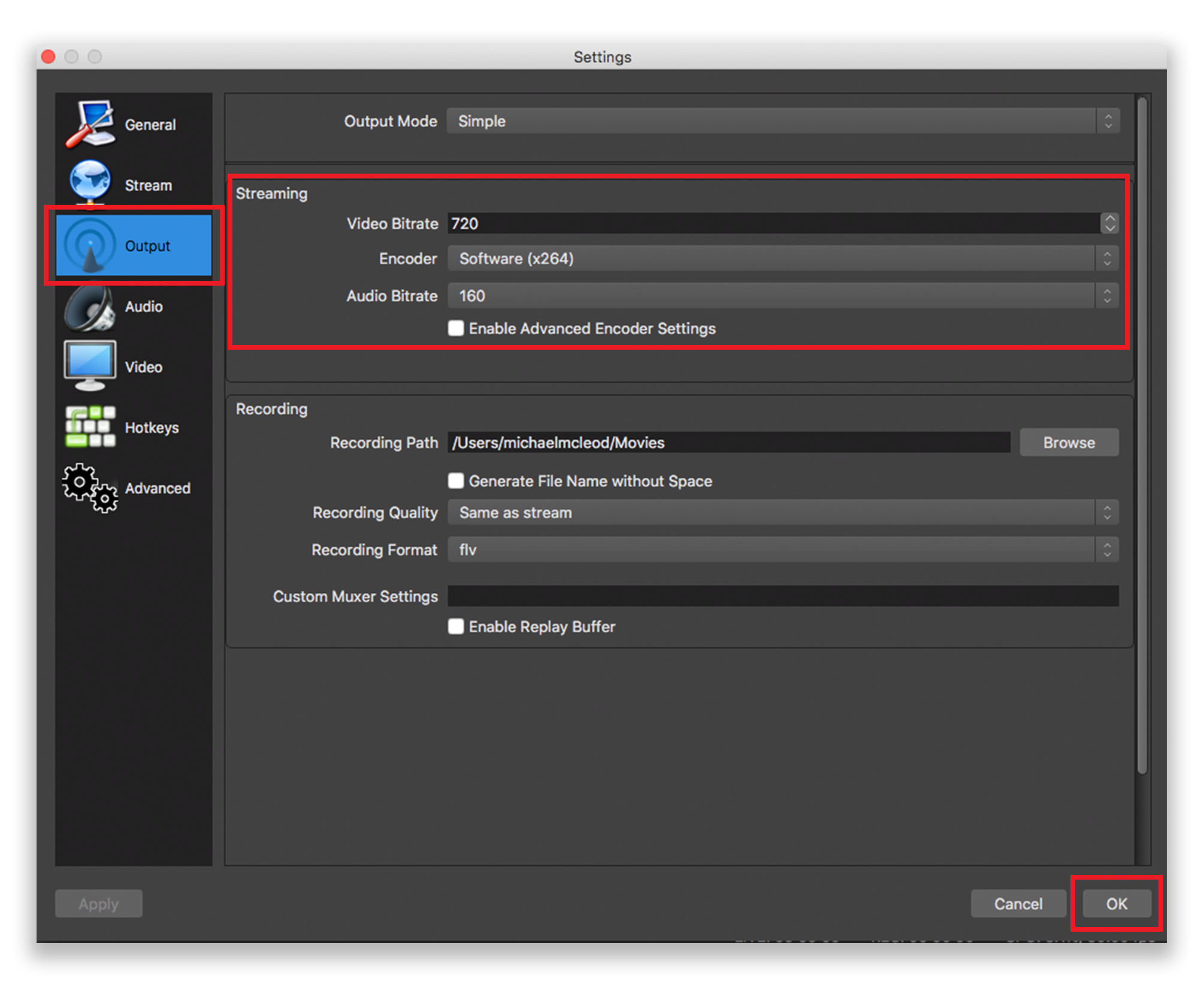 Stream
Click Start Streaming to begin your stream
Click Start Recording to save your stream to a folder of your choice†Choose the folder your stream is saved to by clicking Settings > Output > Browse.†

Other Sources
Audio Input Capture – microphone
Audio Output Capture – headset
Color Source – a customized solid color that is added to your scene
Display Capture – your entire monitor is be displayed to your scene
Game Capture – any game you are playing through DirectX or OpenGL will be displayed on your scene
Image – .bmp, .tga, .png, .jpeg, .jpg, and .gif files can be added to your stream
Image Slide Show – multiple images in a rotation can be added to your stream
Media Source – Common video and audio files (.mov, .gif, .mp3, etc.) can be added to your stream
Scene – this option allows you to add a scene in OBS as a source 
Text – create text or load text from a file for your stream