Ever think about using Zoom as your "cloud" encoder to stream to Facebook, YouTube, LinkedIn Live, or Twitter? This article guides you through the process of streaming video from a Zoom Meeting to Switchboard Cloud.
Zoom is a great platform to host and conduct meetings/webinars, but it isn't your normal hardware or software encoder; think of it as a cloud encoder.
Zoom Prerequisites:
Zoom Pro account or higher and the latest Zoom Desktop Client for Windows or Mac.
You will need to make sure that you properly configure the Live Streaming option in Zoom for your meeting: to do so, follow the steps below!
Zoom Meeting Settings:
STEP 1
Log into Zoom.
Select the Settings from the upper left-hand menu option.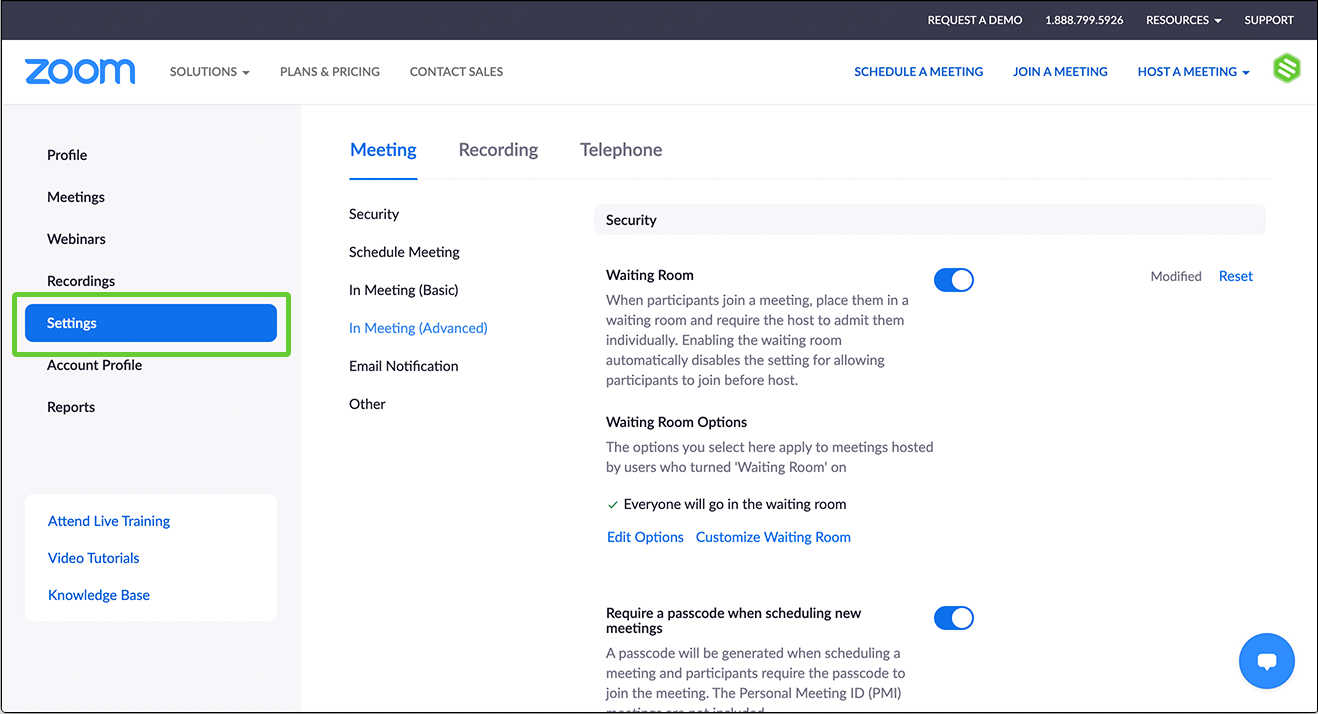 STEP 2
While in Settings, Click "In Meeting (Advanced)" from the menu.

Scroll down to the Allow live streaming meetings option.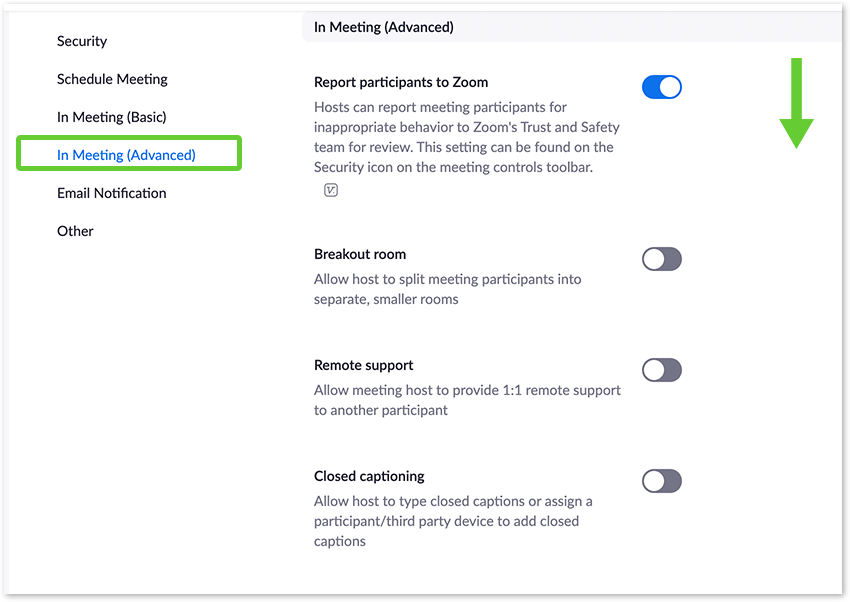 STEP 3
Enable the last option Custom Live Streaming Service.

When finished, click Save.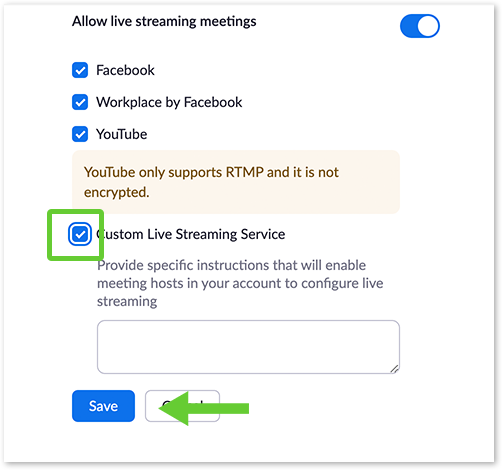 STEP 4
Then, scroll back to the top and select Meetings from the upper left-hand menu option: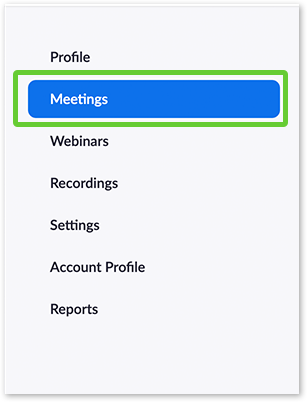 STEP 5
Next, select "Personal Room" and "Live Streaming".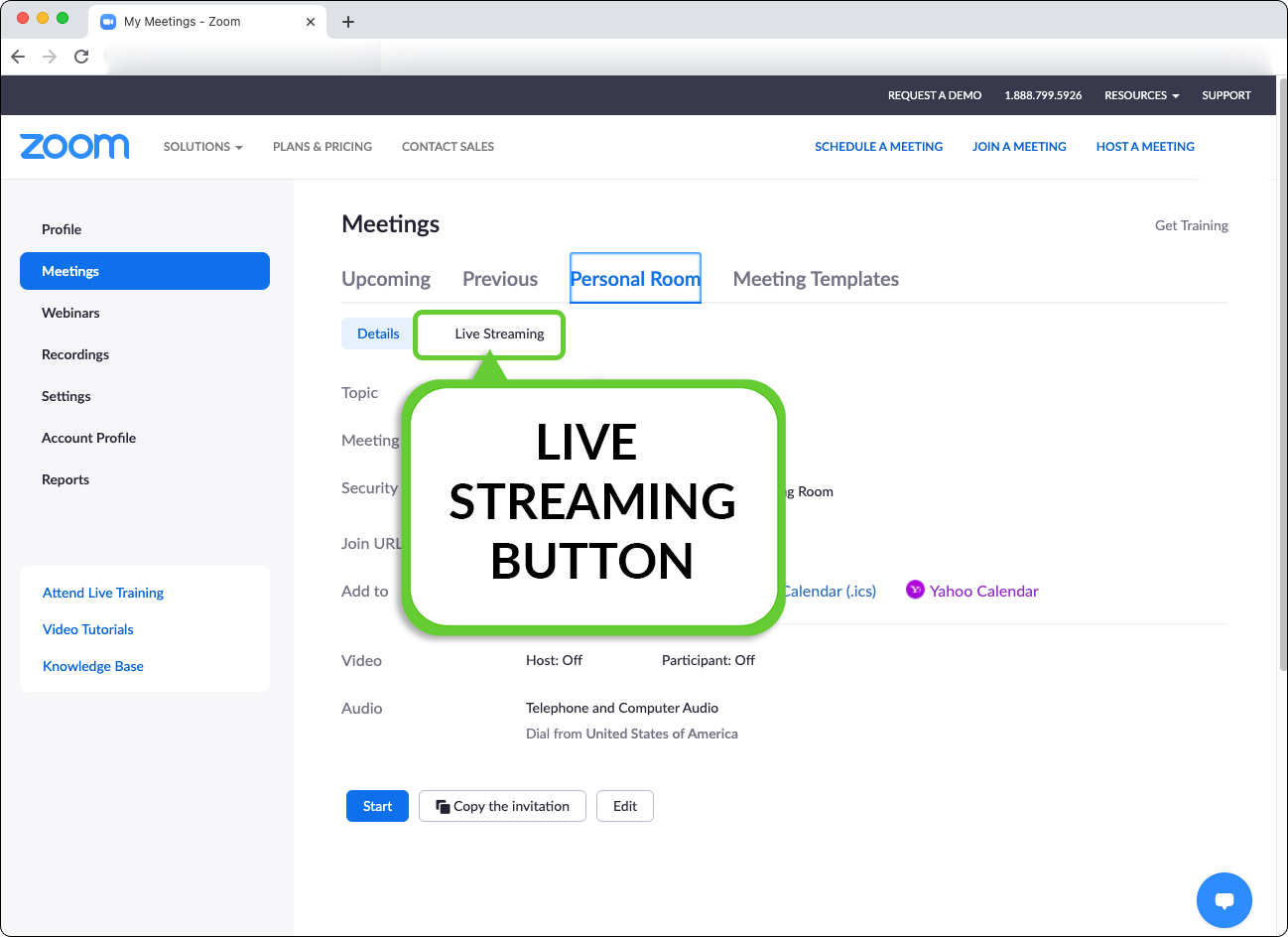 STEP 6
Click the Configure Custom Streaming Service button.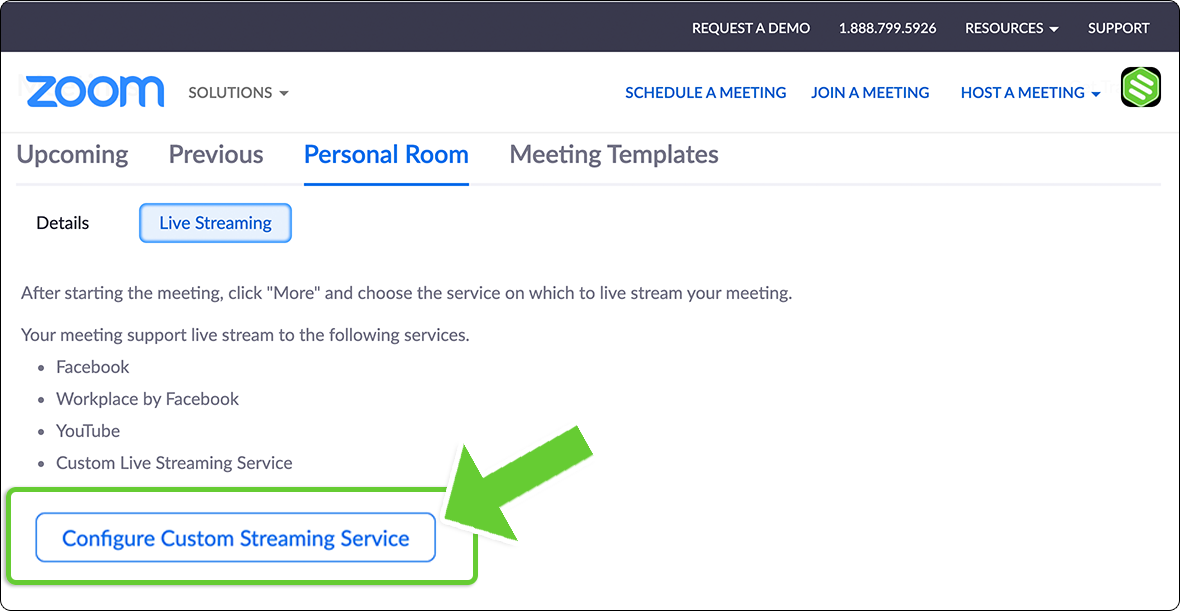 NOTE: To complete the next steps, you will need to log in to your Switchboard Account and grab both the Stream URL and Stream Key located below the confidence monitor). We recommend that you choose a server region nearest your location. If you are unsure which region to choose, select US (geo-based) or Global (geo-based). Read about this step here: Configure your Encoder.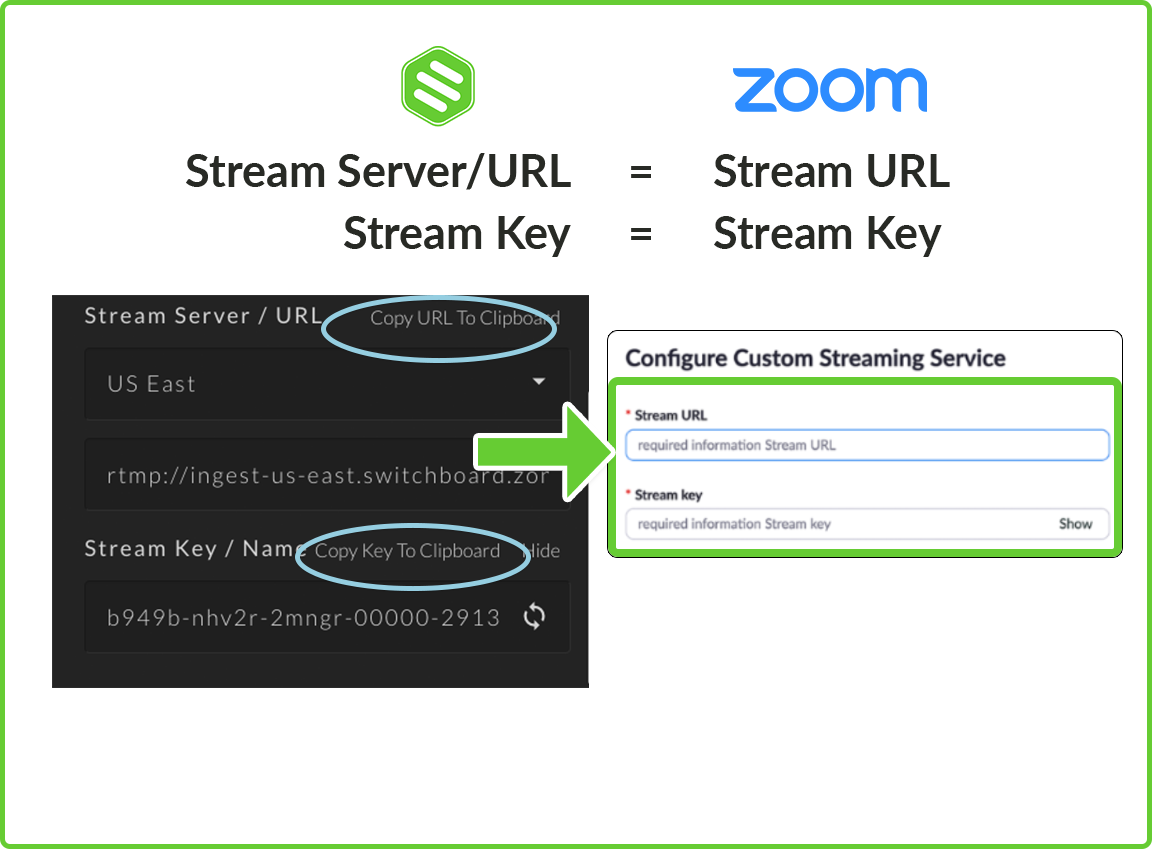 STEP 7
Copy/paste the Stream Server / URL and Stream Key from Switchboard Cloud into the appropriate fields in Zoom.
STEP 8
Insert the URL of or your website domain in this field.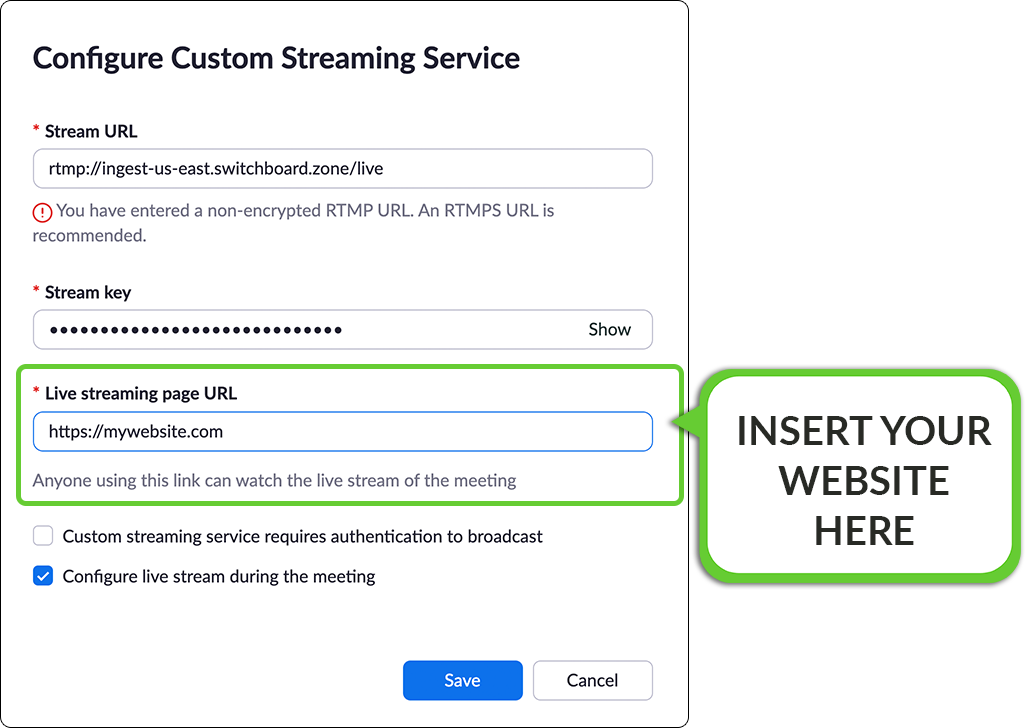 STEP 9
Check the box to enable "configure the live stream during the meeting". Press Save.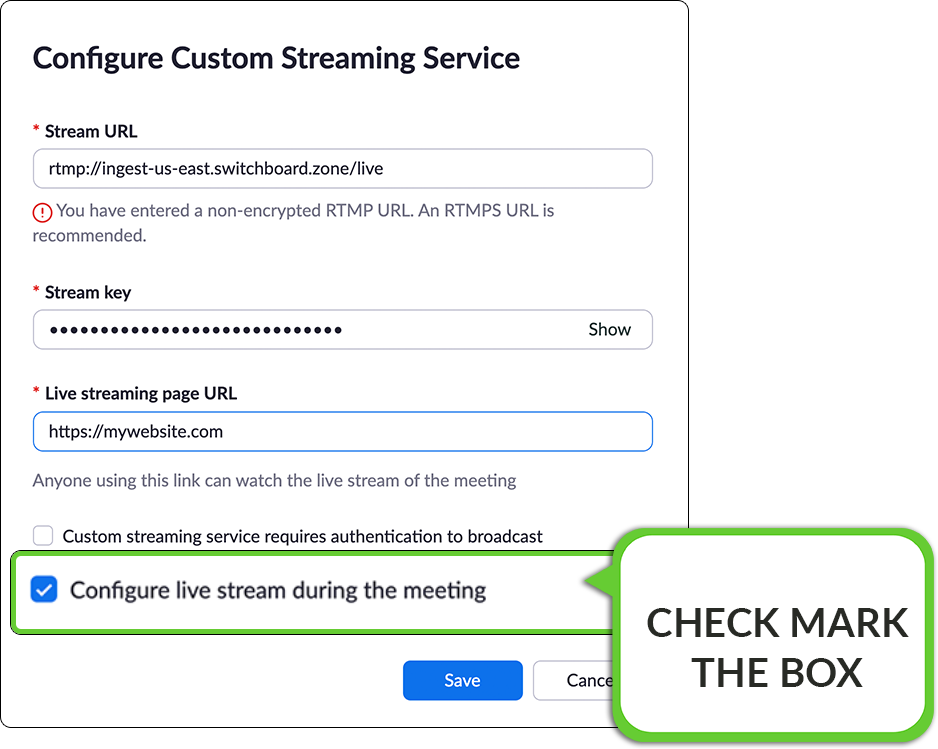 Now that ZOOM has been configured you are ready to GO LIVE!
STEP 1
Start your Zoom meeting.
Click the More... button on the Zoom meeting control toolbar.


STEP 2
Choose Live on Custom Live Streaming Service.

STEP 3
At this step, verify that your streaming information(Server URL, Stream Key, website URL) is correct. You can update if you need to make any last-minute changes before going live.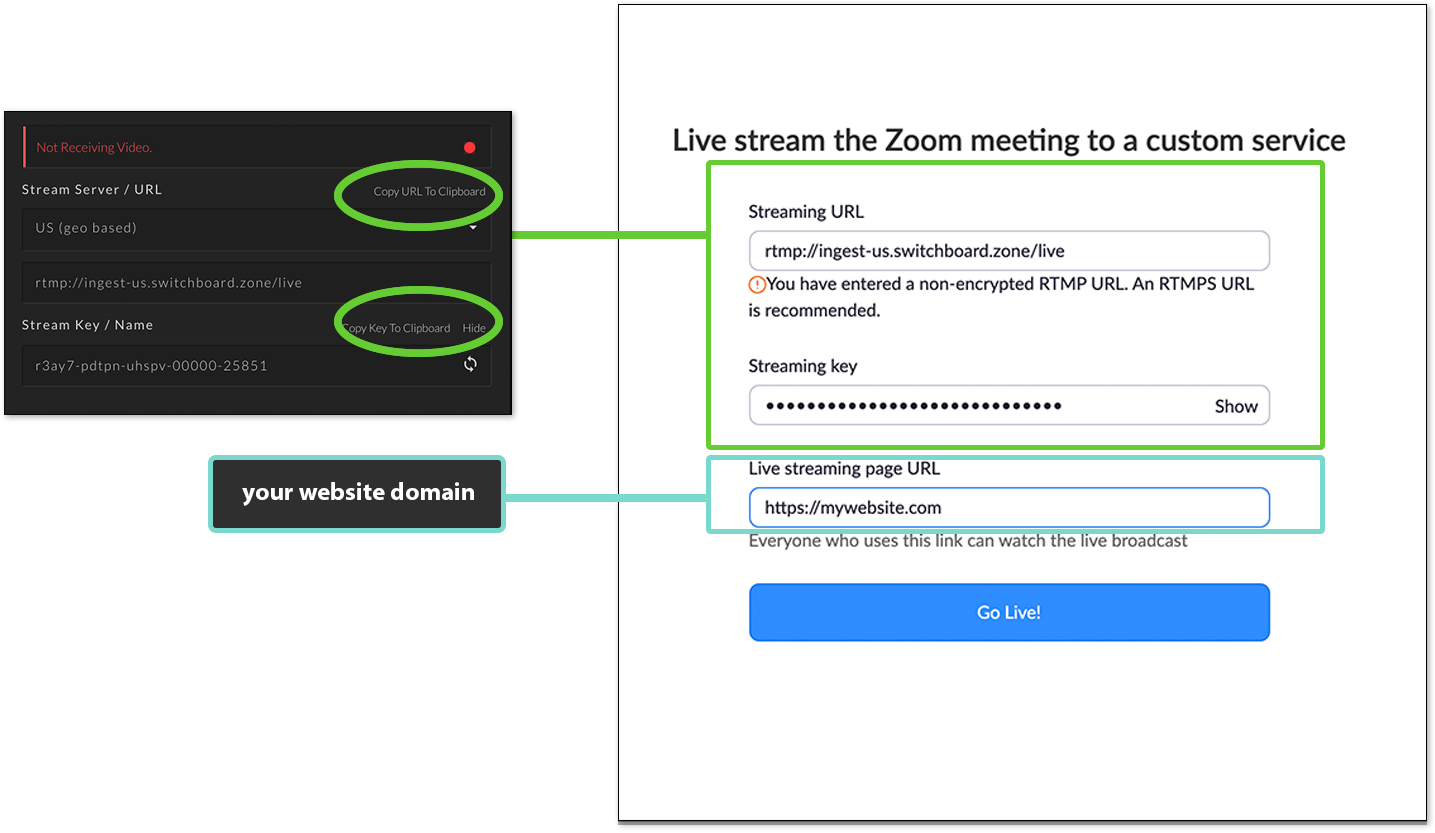 Zoom will start the connection to your Switchboard Cloud Account.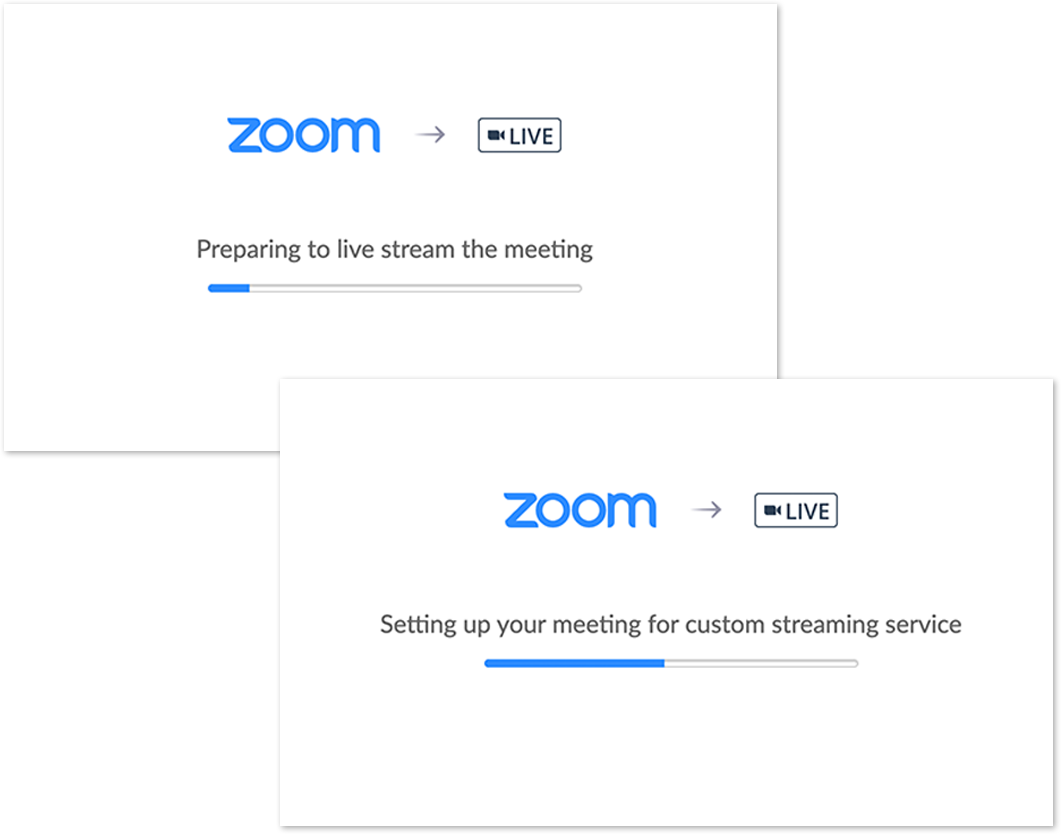 Now your live video should be present in the preview monitor of Switchboard Cloud.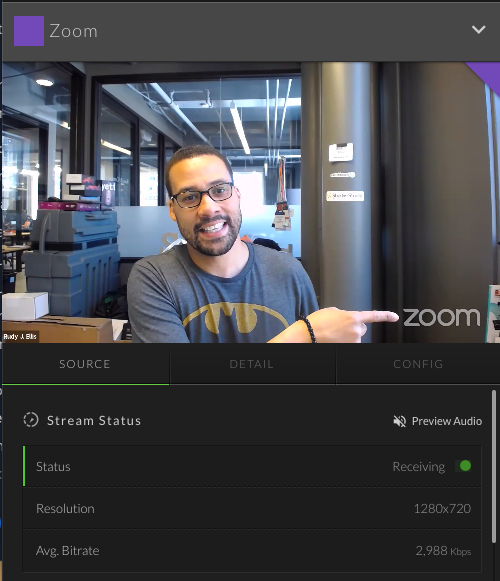 ---
How to Remove the Zoom Watermark
---
Note: If you would like to update the watermark image (Zoom logo) that is displayed in the lower right corner of your video, please check out the following Custom Live Streaming Watermark article to do so. Keep in mind that this is a free feature to enable, but you have to have a paid plan with more than 10 hosts such as Business or Education.