What destinations can I go live to using Switchboard?
Switchboard supports live streaming to a variety of destinations. Below are native and Custom RTMP destinations.
Native Destination - the destinations that we have direct integration with, you authorize the connection by logging into these destinations using your credentials (typically an email and password).
Custom RTMP - the destinations that use the combination of an RTMP/s URL and Stream Key.
There's no extra fee or upcharge for going live to RTMP destinations, Facebook groups, or pages. The choice is up to you!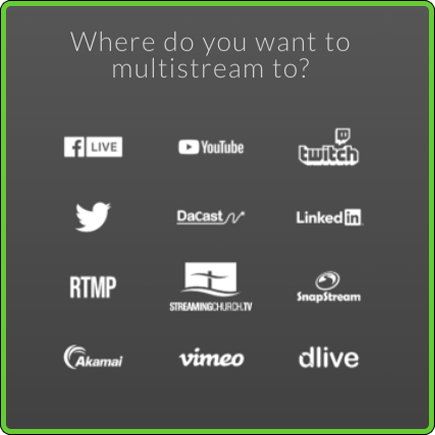 Facebook- profile, pages, groups

YouTube

Twitch

Twitter

DaCast

LinkedIn

Streaming Church

Snapstream

Akamai

Vimeo

DLive
---
Connect via RTMP
If you need to add destinations not listed on our platform, select RTMP from the list.
What does it mean to connect to a destination via RTMP?
When connecting your live video source to a destination, you need two main pieces of information provided to you by the destination provider and necessary when streaming live video.
The first item is the "Server URL", "Stream URL", "RTMP URL", or "RTMP Address."
The second item is called the Stream Key.
Learn How to Add a Custom RTMP Destination to your Switchboard Account.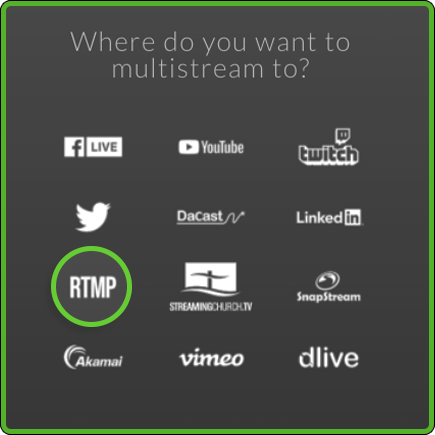 Here's a list of destinations not listed in our API that you can connect with Switchboard.
AfreecaTV

Bambuser

Bilibili

Breakerstv

Chewtv

dailymotion

FC2 Live

Flowplayer

Goodgame.ru

Hopin

Instagib

Kakao Tv

Livehouse.in

Loots

MLG

Mobcrush

Muvi

Navertv

Nimotv

Nonolive

Onlyfans

Socio

StageTen

Theta.tv

Ustream

Vaughn Live

Wasd Tv

Wix
---
Check out these resources.
How to Add Custom RTMP Destinations to your Switchboard Account
How to Rename a Custom RTMP Destination in your Switchboard Account
How to Connect Switchboard with a live streaming encoder
How to Use the Viral StreamShare™ feature